The Devastator: Toys & Games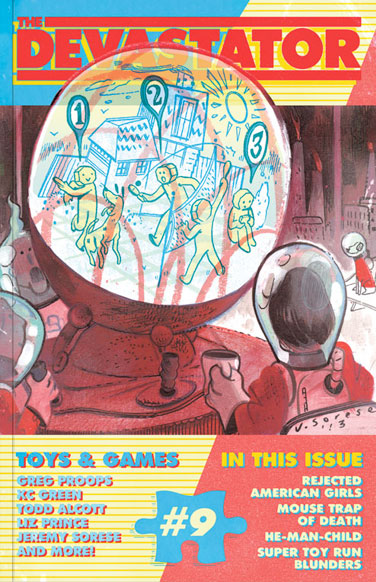 The Devastator is the geek comedy book series featuring new works by 30+ writers and artists from The Daily Show, The Onion, Adult Swim, Marvel and more.
The Devastator: Toys & Games is the Super Toy Run of pop culture satire! We stuffed parodies of Monopoly, He-Man, Polly Pocket, Game Boy and more into our overflowing toy box. Featuring contributions from Greg Proops, KC Green, Todd Alcott, Liz Prince, and an eye-popping cover by Jeremy Sorese. Flip the book around for Cluemates: The Passive-Aggressive Roommate Detective Game, a fully-playable parody of Clue that includes a fold-out board and playing cards.
"I will attest to The Devastator being a very very funny book, I've read every issue, I think they're hilarious. I always look forward to it coming out."-Jordan Morris, Jordan, Jesse, Go!
"For the fan of offbeat humor and indie comics."-Comics Alliance
"NOT OPTIONAL."-A.V. Club