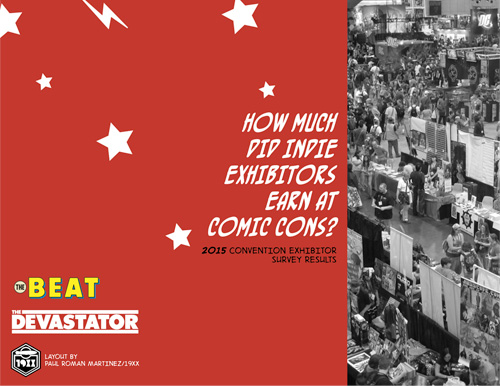 How Much Did Indie Exhibitors Earn at Comic Cons? (2015 Edition)
We teamed up with The Beat to survey 144 of our fellow artists, small press publishers, cartoonists and makers about the pop culture cons and indie comics shows (aka CAFs) they attended. The results include surprising twists and turns, but also: graphs!
If you're an exhibitor, read this to get a sense of how your sales compared to your peers and which shows were the best. If you're a fan, this will give you a behind-the-scenes glimpse at the world of convention exhibitors... and the shows you attended. Click here to download!
Find the data valuable? Support the yearly survey with a $1 donation.
Digital Book Format: PDF (DRM-Free!)
Page Count: 34
Release Date: February 8, 2015
Price: Digital - Free!

Our readers also enjoy...