April's Subscriber of the Month: Jared Sams
We want to take a moment to recognize the most important people in the world of Devastator: our brilliant, abnormally intelligent subscribers! If a comedy magazine is printed in the woods, but it's never sent to folks via the mail, is it... y'know, a thing? Jared is an indie cartoonist, a waffle aficionado, and April's Subscriber of the Month!
You did it, subscriber Jared Sams! You're our Subscriber of the Month for April! Now… who are you, exactly?
I like comics! So much so, I make some of my own! I write 'em and sometimes draw 'em, and I'm eager to meet Readers Like You at conventions and around town. Also: I believe Ryker would whup Han's ass, Destro is obviously a black guy. Scots be damned, and waffles are God's own perfect food and should take their rightful place at the top of the nutrition pyramid. That is all.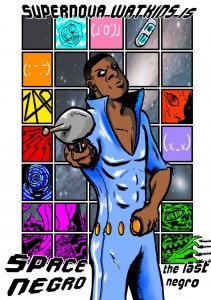 You're a comic book creator and artist. Tell us about your funny books! Are they anything like these Bazooka Joe comics we've been hearing so much about?
I've authored a couple comics in my fledging career as a comic book creator. One is titled Space Negro: The Last Negro, another is The Mad Muslim Mulatto. I always likened myself as the Bryant Gumbel of indie comics, so it surprises even me that the bulk of my comics are about angry black people. You can read some of my stuff at my website/blog/art thingee SPACEMANDEAD.COM!
We've seen you exhibiting in Artist Alley at comic conventions. Who was the coolest person ever to visit your table? Who was the most obnoxious?
EVERYONE who visits my con table is the coolest! Ladies and gents of fine taste and persuasion, who are able to look past the rabble and lock in on the superlative stylings of Spacemandead Comics or Ginger Rabbit Studio (http://gingerrabbitstudio.blogspot.com/). I won't name names, but my least favorite subset of convention goer is "Weird Old Dude Who Can't Stop Talking About Buffy." But who am I kidding? Those guys are awesome, too! Xander fo' life, holmes!
How has The Devastator changed your perception of reality?
I actually wasn't able to grow facial hair until I read my first issue of The Devastator. Then, all of a sudden, my voice dropped five octaves, I became a baritone in my local barber shop quartet, and I started growing hair. All. Over. My. Body. If you're really into braided taints, buddy, then meet me in the alley out back in five. Bring a comb.
What's your super-favoritest Devastator article or comic?
I think my subscription to The Devastator is current all the way to the dawn of the next century (ALL HAIL THE DEVASTATOR!), so I'm a big fan of everything they put out. But my favorite is an oldie but a goodie... "Fat Albert in 'Donald's Rusty Trombone." (From The Devastator #1: Cartoons, now out-of-print, but available digitally. -ed.) It was my very first Devestator strip and I couldn't believe what I was reading. I thought, "Finally! The homoerotic Fat Albert fan-fic I've been waiting for since childhood!" Does anybody else watch reruns of Fat Albert and the Cosby Kids au naturel with a tub of Crisco nearby? Just me? Pfft.
This is your megaphone to your fellow Devastator subscribers out there. What would you like to say to everybody?
Be creative! Make stuff! It feels super good! Also: Support indie peeps. It doesn't have to be me or anything (*kicks rock*), but lets be real here: indie books just do it better.
Want to become Subscriber of the Month? Leave a comment below and tell us why!
Not yet a subscriber? What're you waiting for?! Subscribe for 4 issues today and get a free "thank you" gift!